Is TSM becoming too costly and time consuming for your IT department to manage?
Are you losing focus on your core business, and spending too much time managing your backups?
Is TSM managing you?
Are you having difficulties keeping your "train" on the tracks?
Let Salvus Data manage your IBM Tivoli Storage Manager solution. Contact us today!
Salvus Data Consultants is a proven leader in data protection management. We are best equipped to help you manage your data protection processes, policies, costs, and risks. We ensure the integrity of your enterprise's data assets. We are an IBM Business Partner and our consultants hold Tivoli Storage Manager accreditations.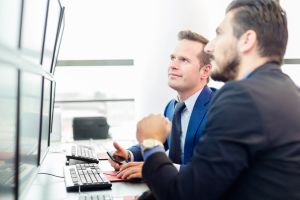 Salvus Data Consultants can assist your business in controlling costs and eliminate inefficiencies by aligning business unit priorities with IT capabilities, helping your business achieve the objectives that are essential for your growth. We can help centrally monitor and manage your backup environments more cost-effectively and with increased service levels.
Salvus Data Consultants can manage your backups more effectively and with less cost to you than a full-time employee:
New reports and alerts which include specific detail regarding the new database and recovery log setup in TSM V6
A new alert which provides a warning of any clients that have not made contact with the TSM server for a pre-defined amount of days
A Client Report which has the capability to report on the success rate of all TSM Client Backups for the entire TSM environment in a single and auditable report
A reporting tool that identifies, improves and protects the entire TSM environment
Salvus Data Consultants can keep your train on the tracks…
Salvus Data Consultants' Managed Systems Services can remove the daily burden of supervising, monitoring and managing your TSM environment.
By using our Managed Services you will enjoy these benefits:
Access to a team of senior certified TSM consultants which integrate into your existing IT team to manage your TSM infrastructure
Provide proactive TSM management, reducing your time and effort spent on internal "fire fighting"
Offer an escalation point and access to a team of TSM consultants with extensive experience of supporting a broad range of TSM backup environments
Reduce personnel based risks such as holiday, sickness, vacation, and staff turnover and allow your internal staff to focus on core skills and projects
Regular strategic review meetings and account management
Our TSM consultants will work with your IT department to proactively manage backup systems and make recommendations based on best practice guidelines that will enable your business to reap the rewards of a professionally managed IT infrastructure.
Salvus Data Consultants will also be available to advise and carry out implementations, upgrades, and migrations of your TSM servers and clients as needed.